---
<!— articoli finale —>
---
In queste ore Nintendo of Japan ha aperto la vendita dei box bundle vuoti di Nintendo Switch con Splatoon 2. Sul sito ufficiale sarà infatti possibile acquistare una di queste confezioni al prezzo di soli 540 yen (5 euro circa), al cui interno non è presente nè la console nè una copia del gioco.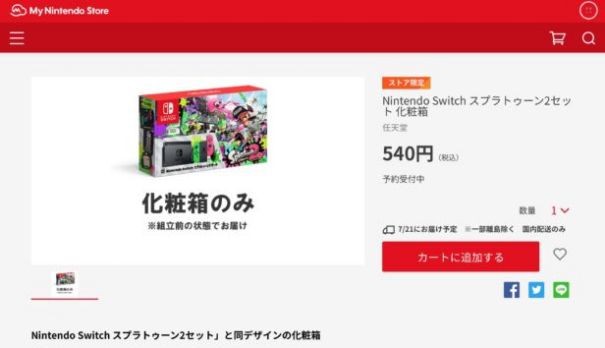 Oltre ad essere una mossa commerciale alquanto bizzarra, Nintendo of Japan ha messo in commercio queste confezioni per dare la possibilità ai possessori di Switch senza confezione originale di recuperarla insieme ad un codice download della versione retail di Splatoon 2.
Cosa ne pensate? Fatecelo sapere qui sotto nei commenti o sulle pagine social di Spazio iTech.